There is a reason we are drawn
to looking at the ocean.
It is said that the ocean provides
a closer reflection of who
we are than any other mirror
                         – Rick Ruben, The Creative Act: A Way of Being
By Suzanna Leigh
Behind us, our little 9.9 hp Suzuki outboard left a trail of swirls in the afternoon light, as Eli-Oh chugged along south of Lummi Island on our way to Chukanut Bay. There was no wind, and the water was as smooth as old glass. The afternoon sun cast sparkles on our wake, making a trail of light off to the horizon. There was no other boat in sight.
With more than one-half mile of open water between us and the dark green hills of Lummi to port and Cypress Island to starboard, my sight and lungs came alive with a sense of openness, freedom, and peace. I let go of the tiller long enough to try to capture the slow ripples and ever changing ovals of color: the grays, blues, and whites reflected from the sky, and the dark, dark green-black of 40 fathoms of salt water below us, but the camera just couldn't do it.
Below, my son James was napping or planning his next adventure.
By the time we dropped anchor in Chuckanut Bay, the sky and water around us glowed with brilliant oranges and yellows. The next day, we secured the boat at Fairhaven and took the bus from Bellingham to Seattle, where my dear husband Rich met us. He treated us to dinner at our favorite West Seattle restaurant, Endolyne Joe's, and we took the ferry home to our own Island, Vashon.
How dark and closed in our house felt after four days on the water! How stale the inside air after filling our lungs with salt air! It made me wonder, are humans really meant to live inside, the way our current lifestyles dictate? Is there another way of living? All the worries I left behind while on the boat fell back on my shoulders. The world of "civilization," with its senseless shootings, bitter political rivalries, and natural disasters, but even more, the spoken and unspoken expectations of who we should be and how we should live – of right and wrong and of gender roles – closed in on me. I understand now why James spends as much time as he can up in the mountains or out on the boat. We need that time away to reclaim our humanity, to reconnect with the Source of All Life. To remember who we are. To remember why we are here.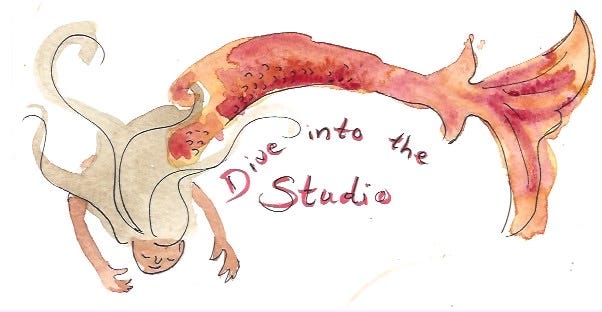 Reprinted with kind permission from the author. For more of Suzanna Leigh's writing and art please visit her substack, Drinking Color.