By Orca Annie Stateler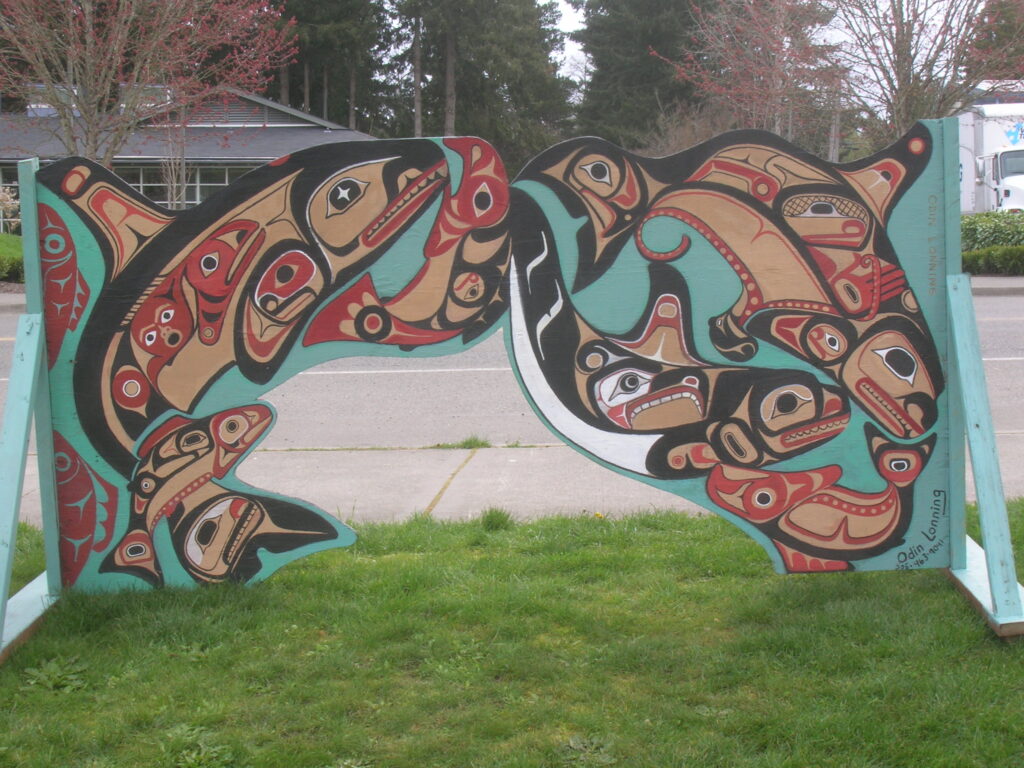 Tlingit artist Odin Lonning recently installed a panel on the lawn shared by The Lodges on Vashon, Wine Shop Vashon, and Vashon Brewing Community Pub. "Killer Whale and Salmon Nations of Whulj" is a cutout hardwood panel painted on both sides with multi-tribal Coastal Native marine life imagery. Whulj is a Lushootseed term for "The saltwater we know."
The panel is a tribute to the enduring bond that First Nations have with sacred relations: endangered Southern Resident orcas and their preferred prey, Chinook salmon, as well as Transient killer whales. We acknowledge that we are in the ancestral territory of the sx̌ʷəbabš – the original inhabitants of Vashon-Maury – with Coast Salish design elements.
The accompanying photo shows Side A. The killer whale and salmon on the left half display Salish, Tlingit and Nuu-chah-nulth formline. The Salish salmon with a spirit face in the orca's body conveys the vital relationship resident orcas have with abundant salmon. On the right half, the top orca portrays a Tsimshian story of a battle between Blackfish and Devilfish – killer whale and octopus. The second orca contains a Thunderbird in Kwakwaka'wakw style. A Salish salmon is beneath the orcas.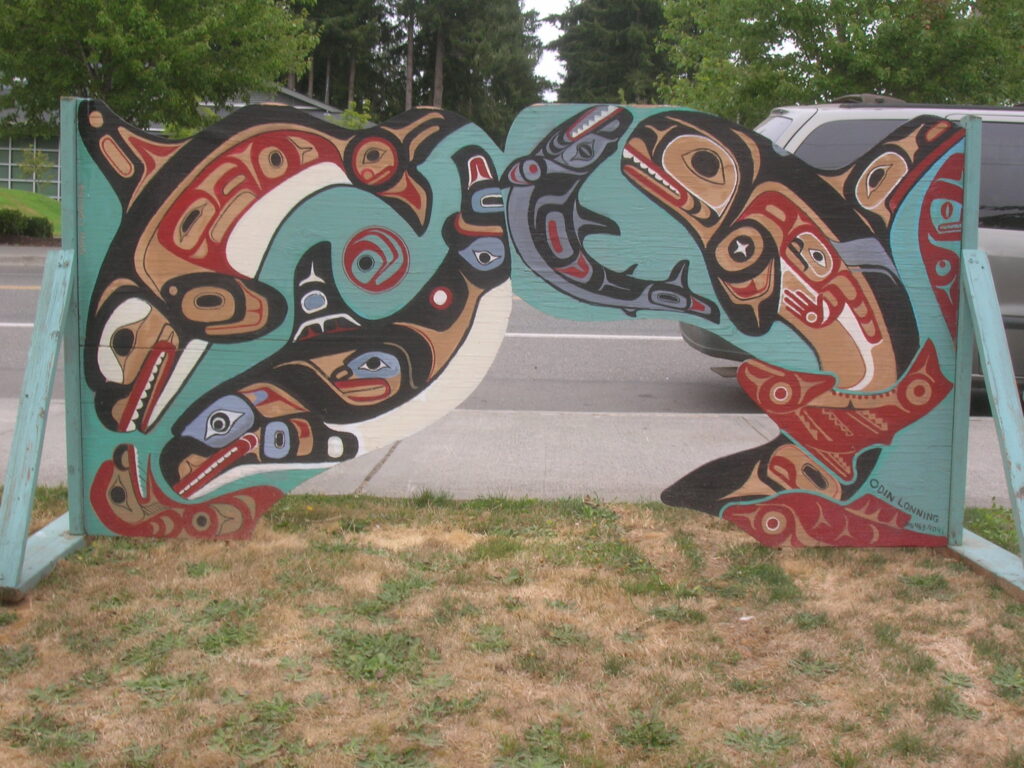 On Side B (see above), the top orca on the left half, in Haida and Tlingit formline, has a stylized eyepatch. The second Kwakwaka'wakw killer whale holds a baby inside – homage to Northern Resident orca celebrity Kéetla/Springer (A73), Vashon's honored guest in 2002. The bottom critter is a harbor seal – elemental prey of transient (mammal-eating) killer whales.
In the right half, a shark represents Odin's personal Tlingit crest, Ground Shark. The killer whale with a stylized saddle patch and shamanic symbolism is depicted in Tlingit, Haida, and Tsimshian formline. Two Salish salmon and half of a shark face on the top right edge complete the design field.
As Indigenous voices for our Southern Resident killer whale (SRKW) relatives, Odin and I have an ecological and political rationale for creating this panel. Watching critically endangered Southern Residents lose their babies, starve to death, and struggle to survive in degraded, noisy, and contaminated habitat crushes our souls. Insufficient Chinook salmon returns throughout SRKW traditional territory substantially contribute to the abysmal decline of this culturally and spiritually significant orca population. Like many Indigenous peoples, we channel grief through artwork.
A recent drone study explicitly reveals that a number of SRKW are in poor body condition and vulnerable to dying prematurely: adult male Blackberry (J27), b. 1991; adult female Alki (J36), b. 1999, who was pregnant in autumn 2021 but bore no calf; adolescent male Moby (J44), b. 2009; juvenile male Tílem Ínges (J49), b. 2012; juvenile female Tofino (J56), b. 2019; adult female and matriarch Ino (L54), b. 1977; matriarch and pregnant female Racer (L72), b. 1986; pregnant female Moonlight (L83) b. 1990; adult female Ballena (L90), b. 1993, lone survivor of her matriline; adult female Calypso (L94), b. 1995; adolescent male Midnight (L110), b. 2007, son of Moonlight (L83); adolescent male Finn (L116), b. 2010; and adolescent male Keta (L117), b. 2010. Some orcas look shockingly thin.
Moreover, juvenile female Kiki (J53), b. 2015, and juvenile male Lazuli (L123), b. 2015, exhibit slower-than-expected growth. Kiki – named for Kikisoblu, or Princess Angeline, (Duwamish) – is also in below-average body condition. These fifteen frail extended family members are constantly in our thoughts, as are this year's newborns: baby K45 born to mother Spock (K20), b. 1986; and baby female J59 born to mother Hy'Shqa (J37), b. 2001.
In 2021, the SRKW lost esteemed matriarch Marina (L47), age 47, and adult male Cappuccino (K21), age 35. Shortly before he died, Cappuccino was horribly emaciated and barely floating, with his elegant dorsal fin fully collapsed over his back – impossible not to burst into tears at the sight of his suffering. Dorsal fin collapse is virtually unheard of in wild orcas but common in captive orcas. Missing since late 2021 and presumed dead are two young males, Solstice (L89), age 28 when last seen, and Ripple (K44), merely 10 years old when he disappeared. Only 73 SRKW remain.
We ask viewers to mindfully contemplate each fragile orca when gazing at Odin's panel. Remember our Kéet (killer whale) relatives who passed too young and too soon – Scarlet (J50) comes to mind. Recall cherished elders now departed: Granny (J2), Lummi (K7), Ruffles (J1), Mega (L41), and many others. Feel the Southern Residents' persistent distress. Marvel at Kéetla/Springer's stunning success.
Odin has additional public art on Vashon. A Frog, Raven, and Mouse pole he painted for Adam Cone (Snapdragon chef extraordinaire) is at Dr. Weispfenning's former office in the IGA complex. In 2020, Odin painted four 32-inch square panels (C7, E1, E7, E8) for the !Attention! Artists at Work public outdoor mural project at Open Space for Arts and Community. For more information, call 206-463-9041, or visit odinlonning.com and Odin's fledgling Facebook page.
Orca Annie Stateler is an Indigenous marine naturalist, educator, citizen scientist and orca nerd. A Vashon resident since 1994, she has written for The Vashon Loop and its predecessor, The Ticket, for two decades. Guided by their First Nations ancestry, Orca Annie and Odin Lonning created "Kéet Shuká:An Indigenous Tribute to Killer Whales," as well as other programs that weave together Coastal Native culture, traditional ecological knowledge, Western science, and art.
Odin Lonning, Orca Annie's BAE, has 45-plus years of experience as an award-winning Tlingit (Alaska Native) artist and cultural educator. Odin is committed to creating traditional and contemporary artwork that embodies Indigenous values, elevates his culture, and accentuates the dire linked fates of our critically endangered Southern Resident orcas with their preferred prey, Chinook salmon.